Cosmetic surgery is not just for the young and healthy. More and more seniors are now going under the knife to achieve more youthful bodies, skin, and features. While cosmetic surgery is one of the fastest and easiest ways to obtain a more aesthetically-pleasing appearance, many worry about the safety aspect of cosmetic surgery during one's elder years. Research has shown that cosmetic surgery is just as safe for seniors as it is for younger patients. However, certain precautions should be taken to reduce the risk of complications, such as finding the best dermatologist in San Diego. By choosing the right facility, seniors can often find great success with the outcome of their cosmetic procedure.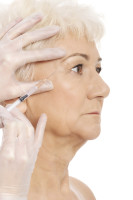 Why Seniors are receiving Cosmetic Surgery
Many older men and women are opting to get lifted, tucked, and tightened to help turn back the hands of time in regards to their outward appearance. Some older adults also choose to have non-invasive cosmetic surgery as a way to look energized and feel confident during their golden years. According to a Consumer Attitude Survey conducted by the The American Society for Aesthetic Plastic Surgery (ASAPS), approximately 684,768 seniors over the age of 65 underwent both surgical and non-surgical cosmetic procedures in 2010.
Just How Safe Is Cosmetic Surgery for Seniors
Seniors looking to reclaim a bit of their youth now have the opportunity to alter their outward appearance by undergoing minimally invasive cosmetic surgery procedures. While safety is of major concern to many seniors and their families, research has proven cosmetic surgery to be just as safe for older adults than it is in their younger counterparts. According to a 2014 study conducted by plastic surgeons at Vanderbilt University Medical Center that analyzed data from more than 129,000 patients during a five-year period, there was no significant difference in the rate of complications for individuals over age 65 compared to younger patients.
Finding the Best Cosmetic Surgeon in San Diego
If you're new to cosmetic surgery, it's wise to start small, making minor tweaks to your appearance. Making non-invasive improvements to the skin can help you create a younger, more vibrant complexion without going under the knife. Our Botox San Diago is a popular option for men and women looking to rid their skin of fine lines and wrinkles. Juvederm Voluma, a type of dermal filler, is frequently used to achieve noticeably younger looking uplifted face. It works by plumping up sagging, sunken, or wrinkled skin, with results similar to a facelift.
Cosmetic surgery is suitable for patients of all ages and backgrounds, and can significantly improve a person's appearance, confidence, and overall wellness. Of course, like with any type of medical procedure, there are risks associated with cosmetic surgery. However, most patients find that the advantages of cosmetic surgery far outweigh the rare unlikely complications. Contrary to popular belief, no one is too old to improve their outer appearance through cosmetic procedures. For more information or to schedule a consultation for a cosmetic procedure, contact Dr. Ataii at Laser Clinique.
---
Back to Blog